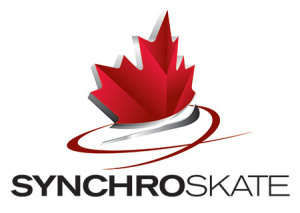 Synchronized skating ("synchro") is a specialized discipline of skating involving groups of eight or more skaters performing various group formations and maneuvers. The objective is for the team to perform as one unit executing circles, blocks, lines, wheels and intersections in unison to the music, while demonstrating quality edges, power and flow. More information at Skate Canada "SynchroSkate".
ADULT SYNCHRONIZED SKATING TEAMS
The Ancaster Affinity Synchronized Skating Team will represent ASC at Skate Canada Synchronized Skating Competitions in the
Adult II & III
categories. The teams consist of 12 to 20 skaters.
All skaters must be over the age of 19 as of July 1st of the competition year. Previous skating experience is required, and previous synchronized skating experience is strongly recommended.
Adult II
team practices on Thursday evenings from 8:30pm–11:00pm at Morgan Firestone Arena.
Adult III
practices on Monday evenings from 8:30pm–10:30pm at Mountain Arena in Hamilton.For more information, please contact:
Team Coach Danielle Losier (905) 520-5527 or email:
danielle.losier.85@gmail.com
.
ADULT SYNCHRO SKATE CANADA & ANCASTER SKATING CLUB REGISTRATION FEES 2017-2018
All adult synchronized skating team members must register online with Ancaster Skating Club to pay for your Skate Canada/Safe Sport, and the ASC Admin Fees, prior to the first day of skating.
You must be registered with Skate Canada and the Club before you skate!
• Credit card payment online only.
• Deadline to register: September 1, 2017.
Payment to Ancaster Skating Club to register includes the following:
• Skate Canada Registration/SafeSport Fee ($35.65) + ASC Admin/Online Reg Fee ($20.00) = $55.65
Note: Team ice, competition, coaching fees etc. are payable to your team manager.
HAMILTON REGION YOUTH SYNCHRONIZED SKATING TEAMS "Steel City Synchro" 2017-2018
Hamilton Region Youth Synchronized Skating is still looking for skaters age 7-15 years to join, and will be accepting new skaters throughout the month of September. Contact coach Danielle Losier at:
danielle.losier.85@gmail.com
.