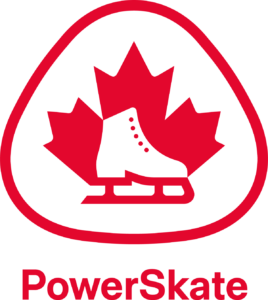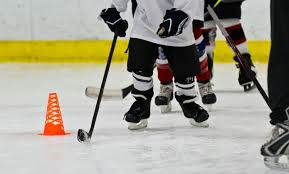 GET AN EXTRA EDGE AND TAKE YOUR GAME TO THE NEXT LEVEL!
Get a step up on the competition with PowerSkate! A high-energy instructional skating program that develops fundamental skills for both hockey and ringette. This program focuses on balance, control and agility skills including components of power and speed. Skating skills and techniques are taught in a progressive format by Skate Canada coaches to ensure every skater reaches their full potential.
We welcome skaters from age 4 and up, but skaters must have previous skating experience as noted below. This program can be used in combination with hockey programming to improve upon fundamental skills. All PowerSkate participants must have full equipment (including neck guard), hockey skates, gloves, a stick, and CSA approved hockey helmet.
PowerSkate A, Tuesdays 5:10 PM: For young skaters (aged 4 – 7) (born 2017, 2018, 2019 – Must have turned 4 by September 15, 2023) who are looking to gain skating skills in a hockey format. This program aims to develop basic skating abilities in a power skating-specific environment. Full hockey equipment and stick are required.
Mandatory minimum skills to be eligible to participate in PowerSkate A;
Minimum age 4 by September 15, 2023
Have basic skating skills through any one of;

Passed CanSkate Stage 1.
PrePOWERSkate – 1 season.
Introductory hockey/ringette program – 1 season.

Must be able to move forward, stop, fall down and get back up completely independently in hockey equipment
*Skaters who do not meet the program registration criteria are encouraged to register for PreCanSkate or CanSkate*
PowerSkate B, Saturdays 9:15 AM: For participants born in 2011 to 2016. An action-packed, fast paced, full ice, high energy instructional power skating program geared to hockey and ringette skaters that focuses on balance. power, agility, speed and endurance. Ideal for skaters who are currently registered in hockey/ ringette or skaters previously registered in Skate Canada CanSkate, or PowerSkate (formerly CANPOWERSkate or PrePOWERSkate) program. This program aims to develop advanced skating skills specific to hockey and ringette. Skills are taught in small groups with direct coach instruction. Skaters must be in full hockey equipment and have a stick.
Mandatory skills to be eligible to participate in PowerSkate B;
Skaters born 2011 – 2016.
MUST have prior skating/hockey/ringette experience.
For skaters new to hockey, must have passed CanSkate Stage 3 or equivalent.
Appropriate for house league, rep hockey, AAA players.
Must be able to participate in faster paced, more advanced, full ice drills.
Skaters will be grouped with participants of similar age and skill level.
*Skaters who do not meet the program registration criteria are encouraged to register for CanSkate.*
Some of the top players in the NHL have trusted Skate Canada's best-in-class programs to help them reach hockey's biggest stage including Nathan MacKinnon, Matt Duchene, Mark Scheifele and Jeff Skinner.
Equipment Requirements:
CSA Approved Hockey Helmet with full face mask.
Helmet must be in good condition (straps and snaps working, helmet not damaged).
Full hockey equipment including neck guard.
Hockey stick.
HARD Skate guards are required, to ensure safe exit from the building in an emergency.
Updated August 15, 2023