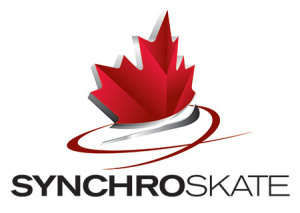 Synchronized skating ("synchro") is a specialized discipline of skating involving groups of eight or more skaters performing various group formations and maneuvers. The objective is for the team to perform as one unit executing circles, blocks, lines, wheels and intersections in unison to the music, while demonstrating quality edges, power and flow. More information at Skate Canada "SynchroSkate".
ADULT SYNCHRONIZED SKATING TEAMS
The Steel City Synchro Adult (formerly known as Ancaster Affinity) teams will represent the Ancaster Skating Club in the Adult 2 & 3 categories for the 2019-2020 skating season.
All skaters must be over the age of 19 as of July 1st (Adult 3), and over age 18 (Adult 2) of the competition year.
Adult 2 practices on Thursday evenings from 8:30pm–11:00pm at Morgan Firestone Arena in Ancaster.
Adult 3 practices on Monday evenings from 8:30pm–10:30pm at Mountain Arena in Hamilton.
All adult synchronized skating team members must register online with Ancaster Skating Club to pay for the Skate Canada/Safe Sport and the ASC Admin Fees, prior to the first day of skating.
Deadline to register: September 1, 2019

*Skate Canada Insurance/Safe Sport Fee is a one-time fee for Sept 1, 2019 to Aug 31, 2020; ASC Admin Fee pays toward Club administration/online registration, once per Fall/Winter and once for Spring seasons.
For information about the upcoming season, please contact steelcitysynchroadult@gmail.com.
---
YOUTH SYNCHRONIZED SKATING TEAMS
Synchronized skating has grown in popularity around the world and Canada is considered a world-leader in this discipline. As a result of this increased popularity and demand from skaters across the Greater Hamilton Area, Steel City Synchro was formulated in the 2016/2017 season to provide skaters of all age and skill levels to participate in this team sport.
Team Levels:
Beginner
Elementary
Pre-Juvenile
Pre-Novice
Pre-Requisites:
Skaters registering for this/these teams must continue to be registered at their home club.
Registering for Steel City Synchro is in addition to your existing STARskate program at your home skating club.
Open to any skater under the age of 18. No prior synchronized skating experience required.
Please contact steelcitysynchro@gmail.com with any questions.