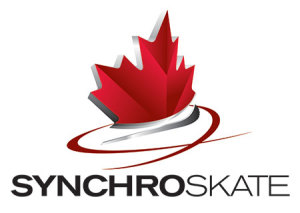 Synchronized skating ("synchro") is a specialized discipline of skating involving groups of eight or more skaters performing various group formations and maneuvers. The objective is for the team to perform as one unit executing circles, blocks, lines, wheels and intersections in unison to the music, while demonstrating quality edges, power and flow. More information at Skate Canada "SynchroSkate".
Synchronized skating has grown in popularity around the world and Canada is considered a world-leader in this discipline. As a result of this increased popularity and demand from skaters across the Greater Hamilton Area, Steel City Synchro was formulated in the 2016/2017 season to provide skaters of all age and skill levels to participate in this team sport.  In the 2018/2019 season, the Ancaster Affinity Adult teams joined the Steel City Synchro family of teams.
Steel City Synchro is fielding the following teams for the 2023-2024 season.
Youth Team Levels:
Intro to Synchro – for skaters working on CanSkate Stage 3+
Star 3 – skaters must have completed Star 1 Skating Skills by November 1, 2023
Star 4 – skaters must have completed Star 1 Skating Skills by November 1, 2023
Star 6 – (Juvenile) skaters working on Star 4 skills/dance and higher
Star 8 – (Pre-Novice) skaters working on Star 7 skills/dance and higher
Youth Team Registration:
Skaters who participate on Steel City Synchro teams must continue to be registered at their home club.
Registering for Steel City Synchro is in addition to your existing STARSkate program at your home skating club (youth skaters).
Adult Team Levels:
Adult Team Registration:
Adults who are registered with a home club for other skating programs may continue to be registered with that club.
Adults who are participating only in synchronized skating will be registered through the Ancaster Skating Club.
2023-2024 SYNCHRONIZED SKATING SEASON INFORMATION:
Tryouts have been completed for 2023-2024 but there are still limited spots on some teams. Any skaters interested in joining for the upcoming season can contact us at the emails below;
For more information about our YOUTH synchro program, please contact steelcitysynchro@gmail.com
For more information about our ADULT synchro program, please contact steelcitysynchroadult@gmail.com