STARSkate is Skate Canada's fundamental figure skating program.
Ancaster Skating Club has implemented the NEW STAR 1-5+ figure skating program, as outlined by Skate Canada/Skate Ontario.
For more information about the STAR 1-5+ program and assessment changes:
Ancaster Skating Club STARSkate schedules are available at Schedules & Calendar.
To register, see STAR Skater Criteria and Ice/Off-Ice Session Fees below, then go to the Registration page.
ASC STARSkate Documents:
• STARSkater Code of Conduct, Aug 2017
• STARSkater Competition Check List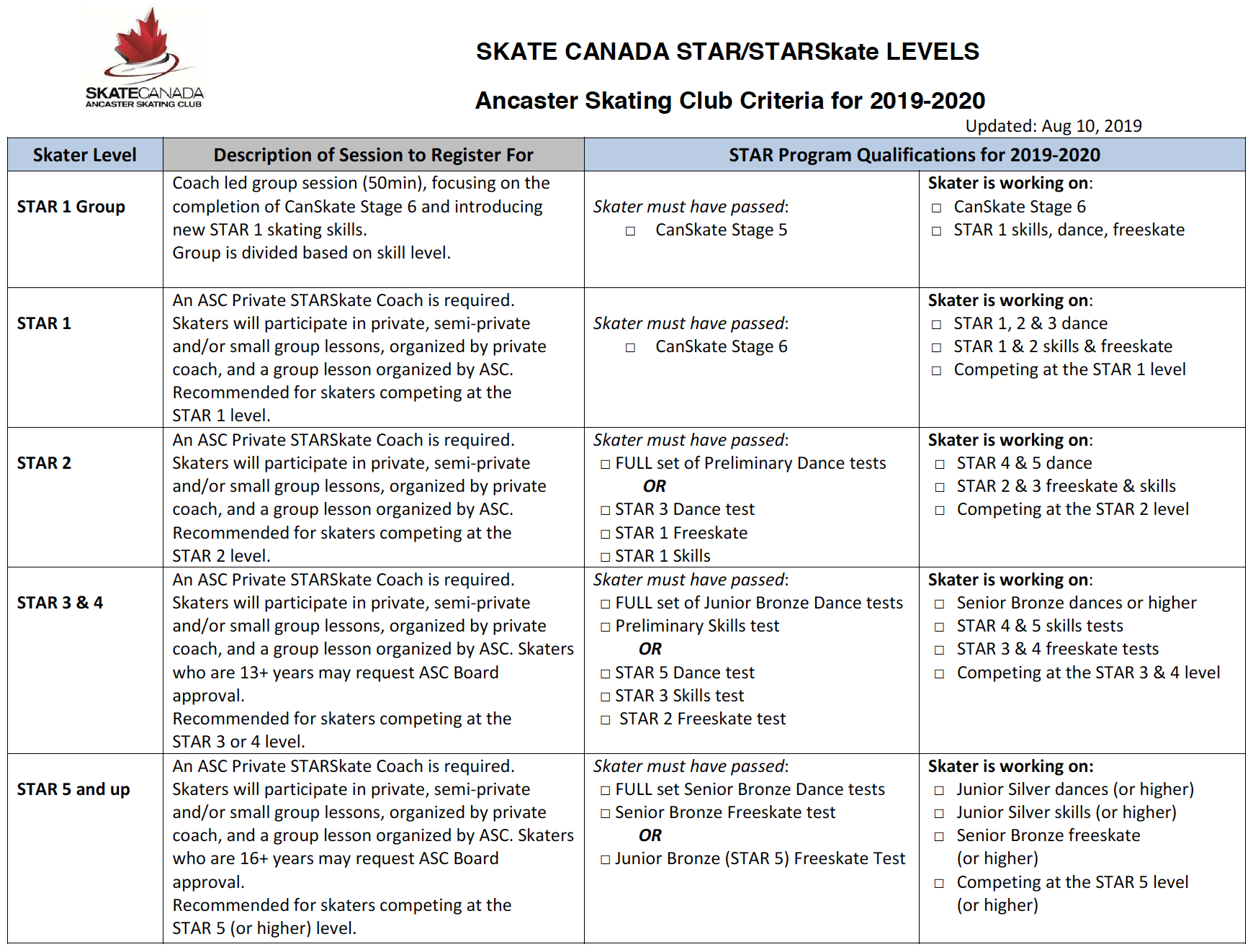 STARSkate TICKET ICE 2019-2020 – PLEASE PURCHASE ONLINE!!
• Ticket ice is used to request to skate on a session you are currently not registered for the season.
• Skaters may only skate on a session they are qualified for and approved by the Club.
• Skaters may not use ice tickets to skate weekly during the season, they must register for the session.
Ticket ice will not be available at the rink just before a session – skaters must obtain approval in advance to guest skate, as some STAR sessions may be full and you will not be allowed to guest skate. Ticket ice must be arranged and purchased in advance of your skate, by contacting the club administrator via email at: info@ancasterskatingclub.ca or at the Info desk in the lobby on Tuesdays or Thursdays.
REMINDER: hand in your ticket to the STARSkate Coordinator (Kaylyn Pecaric) or your coach prior to skating.
TICKET ICE PRICING (Updated: Aug 8, 2019)
Ancaster Skating Club Member
• Single Ticket: $25
• Book of 5 Tickets: $100
Note: Ticket Ice includes STAR group lessons on all STARSkate sessions; it does NOT include off-ice on Monday and Thursday sessions.
Guest/Out of Club Skater: $30 per ticket, for any session; approval to guest skate must be obtained in advance by contacting the club administrator via email at: info@ancasterskatingclub.ca.